It was 8.30PM when we arrived. I had chosen the World Heritage listed Austrian village of Halstätt for a three-day break in the middle of a thirteen weeks world snapshot journey. Halstätt's spectacular setting, at the foot of mountains and facing the often mist-cloaked Halstättersee, makes a classic postcard image.
Internet searches quickly reveal that, thousands of years ago, Halstätt was a city of mythical wealth, teeming with traders from all over the world. Precious gems, silks and spices from the East were exchanged for a strange powder that preserved meats and made almost anything palatable. Salt was the dearest commodity of its time.
A guidebook photograph had suggested to me that I might capture some great photos of my own here, so I had made a reservation in a self-catering holiday unit - number 163 in a street called Echentalweg.
For an Australian used to the logical house numbering system used in our cities, there was no apparent logic for identifying dwellings in Halstätt's narrow streets. We found Echentalweg and drove slowly along looking for numbers. Occasional sightings first revealed 45, about three blocks further was number 82, and after a few more blocks we found 26. Number 163 remained elusive as darkness gathered. Eventually we found a couple in their garden who seemed to know where we needed to go. Taking their advice, we went to, and knocked at, the identified house.
Two middle-aged women with minimal English came to the door. I handed over our "binding booking" slip printed out from an official Austrian tourist accommodation Website. Despite not having a shared language with us, the women managed to convey that they did indeed operate a B&B, but were not expecting us and were already fully booked for the next three nights.
They invited us in and produced glasses of sweet cordial for us to drink, whilst they and an older man discussed the situation. We began to visualise an uncomfortable night intertwined with suitcases in our very small hire car. The women made many phone calls before finally announcing, with broad smiles of relief, that they had found alternative accommodation for us.
The old man leapt on his bike and beckoned us to follow.
He cycled, and we drove, around just a couple of corners before he motioned to a spot where we should park. We followed him through a small wooden gate to be greeted by a little grey-haired lady, in her dressing gown. She indicated that we should drive our car into her grassy yard and opened larger gates so we could. The man pedalled away.
The old lady led us up an extremely steep and narrow flight of wooden stairs to a small landing. An adjacent large room contained a big bed with white folded doonas either side of an imaginary centre line, a substantial washbasin, comfortable lounge and timber table. Rosary beads shared the wall with other decorations. The room was more than adequate, although lacking the cooking facilities we had wanted.
Our host also showed us the share bathroom and toilet across the landing and told us her very reasonable price. We hoped the local eateries would also be affordable. In the morning we were to find that the attic windows looked out over a pretty garden and the cottage was virtually at the foot of the funicular railway up to the salt mine.
Each morning of our stay Agnes set a table for us with breakfast. On a fine and warm morning we ate at an outdoor table. When the weather wasn't suitable we were shown into a little room inside, delightfully decorated with personal items. My eyes roamed over various framed photographs and settled on one of Agnes' late husband – "my man" she informed me when I asked.
For each day's breakfast we were given individual glass platters of thinly sliced cold processed meat and cheese covered by identical inverted plates, plus a quantity of butter and a basket of small white bread rolls. We also had coffee and tea with our fill of food.
There was too much to see in just a few days. Exquisite buildings with masses of red geranium window box displays surrounded the village's tiny storybook market square. On a narrow outdoor balcony overlooking a laneway leading to the square we enjoyed wiener schnitzel and apfelstreudel.
The profits made by the part-English, part-Indian proprietor of a shop selling colourful scarves and dresses helped the poor of Nepal.
Icy cold silvery water careered along channels carrying melted snow to the lake.
Religious scenes were depicted at several points along the main road.
On a lake cruise, a brief English recording provided some information about the salt mines and other features of the district for those who couldn't understand the live German commentary.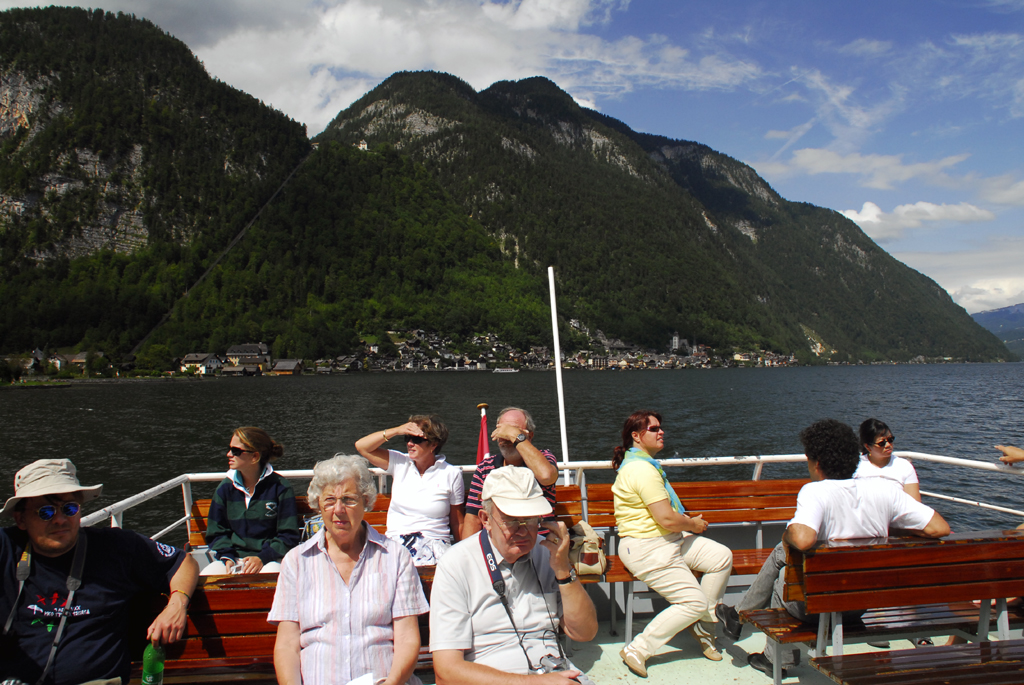 The contrasting steeples of the Catholic and Protestant churches rose before the towering mountain flank rising sheer from water.
Inside the churches we found candles of varying sizes.
At an outdoor cafe/bar by the lake we accessed e-mail over glasses of an icy cold Pinot Grigio.
We took around 200 of our own photographs - reminders of our all too brief adventure in Halstätt.