I met a man by the name of Junior Bishop in Times Square in New York City in October 2013. We chatted one night. He gave me his email address so I could send him some photos I had taken of him.
I thought he was the man I had photographed performing a lengthy routine on an earlier night. That routine ended with him somersaulting over a group of tourists that he had inveigled into being part of his act. I sent images, but never heard back.
Imagine my surprise to read this News in Brief column of The Canberra Times (in Australia) on 28 July 2014:
I had also photographed a Spider Man in Times Square but whether it was Junior Bishop I do not know as there is more than one person who dresses as Spider Man there – even at the same time.
Reports in various US media including the New York Post reveal that "police cracked down on Times Square's menacing pack of costumed creeps over the weekend after a Spider-Man punched an NYPD officer — busting five more panhandlers and trailing many others to warn tourists about them." The Post article showed an image of Junior Bishop, but I can't tell if it is the same guy that I photographed or spoke with.
Others reported to have been arrested include The Naked Black Cowboy, whose real name is Titus Gandy, Captain America, Jessie the cowgirl from "Toy Story'' and another Spider-Man. Gandy was working Times Square in his white underwear and cowboy hat Sunday, denying he'd been arrested and quoted as saying "I think the police are great. They haven't done anything to me. I like to keep to myself and do my job."
This has got to be The Naked Black Cowboy amongst this group posing for another tourist.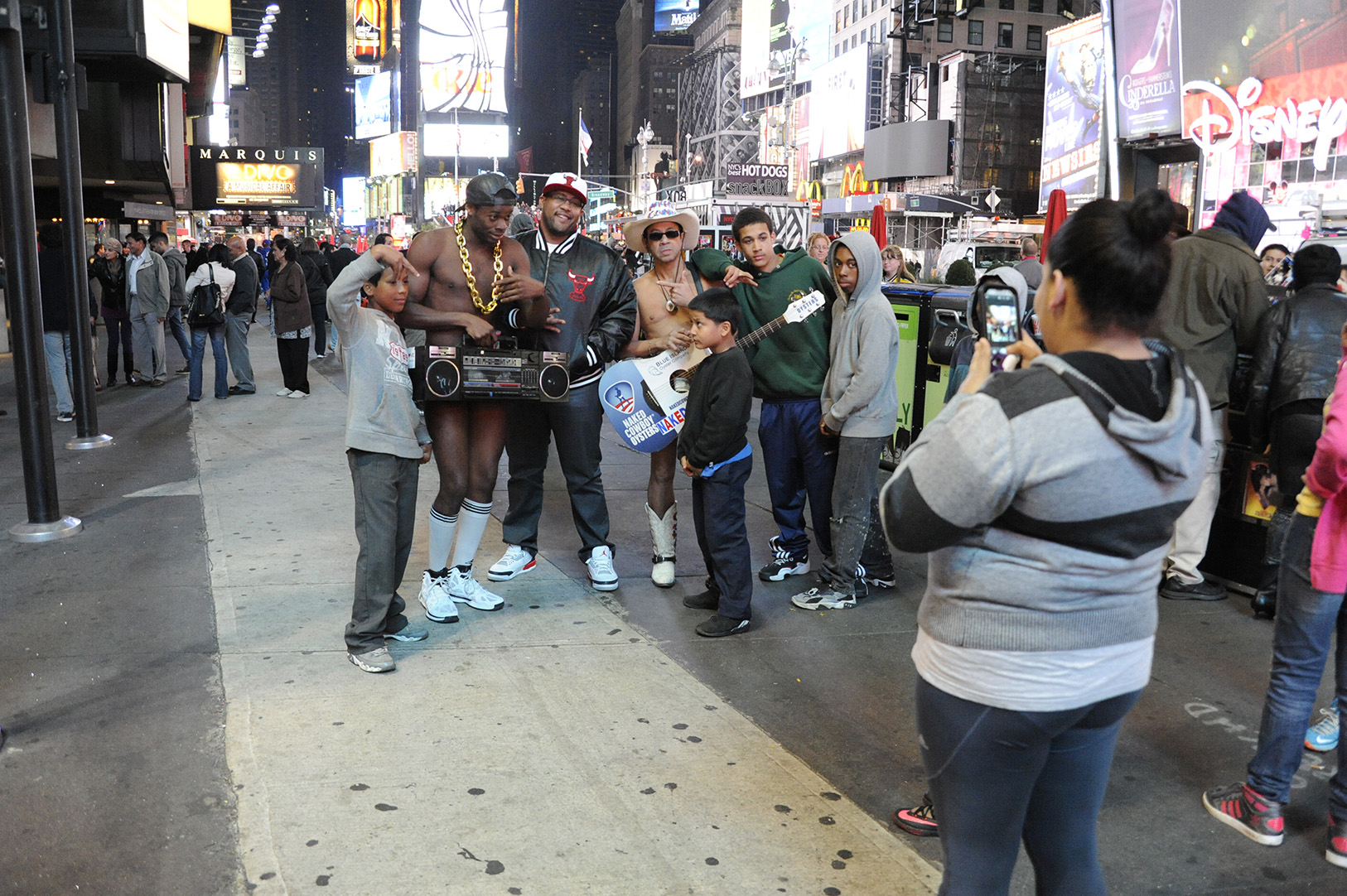 Junior Bishop's mother has been reported as saying she was not aware of his work in Times Square or his arrest. The arrest of Bishop came weeks after the New York City Council said it was considering legislation to regulate the costumed characters in Times Square. The bill under City Council consideration would require licenses and background checks for costumed performers but copyright issues have held up final approval, since most of the costume wearers are not authorized by the characters' owners. The Police Commissioner has endorsed the measure to combat what he called Times Square's "Elmo issues."
Here are a few other costumed characters I captured in photos at Times Square.