Times Square Nothings
In October 2013, along with four other Australian Photographic Society members, I participated in a photographic tour of New York City conducted by APS sponsor, Udesign Phototours.
One day we visited the famous and huge B&H Photographics Superstore, partly to part with money purchasing whatever new goodies we lusted after but mostly to meet and enjoy a presentation by Robert Walker.
Walker is a New York City based photographer with a primary interest in street photography. He is a graduate of Sir George Williams University in Montreal, and attended photography workshops with Lee Friedlander and Gary Winogrand in the 1970s. His published books include "New York Inside Out", described by NY Talk as "a fascinating portrait of the city's poignant juxtapositions and surprisingly brilliant colors, its glamour and its haphazard wonders. Whether his subjects be bag people contemplating luxurious storefronts and impeccable mannequins, or the Theatre District quieted under a thick blanket of snow, Walker has a talent for capturing the unexpected and intimate with unfailing vibrancy and toughness."
Robert showed us many of his vibrant colour images, including numerous images shot in Times Square. After his presentation, and our shopping, Robert walked with us to Times Square so we could try our hands at capturing the sort of images that he frequently shoots there and which he referred to as images of nothing.
Robert Walker in Times Square
Some of Robert's images of Times Square can be viewed at http://robertwalkerphoto.com/pictures/. There is also heaps more information about Robert at http://robertwalkerphoto.com. Internet searches locate various other photographers with the same name so don't go to the wrong sites.
I had a ball capturing images in Times Square. Following Robert's advice I tried to incorporate geometric elements, tried to split images into two halves or four quadrants with matching and complementary colours in diagonally opposite sections, tried to compress everything into a single plane and tried to incorporate numerous unrelated elements into each image. Constantly changing foregrounds (e.g. pedestrians), middle grounds (vehicles) and backgrounds (illuminated billboards) meant it was possible to stand in one spot capturing numerous different images in a short period of time. Every time Robert returns to Times Square he gets new images.
Here are some of my resultant abstract images of New York Nothings which you might like to compare with Robert's.
Cat Eye
Flag Demolition
Mr John Pride
Aerie Birds
Unexplained Way
Watching Statue 1
Watching Statue 2
Taste Is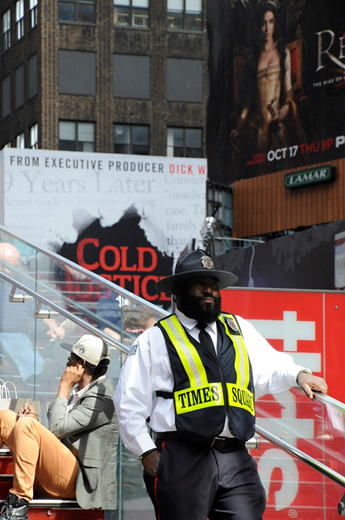 Justice in Times Square
And here are a few of my images taken since in other places when using a similar approach.
Enjoy The Ride
Niagara Haunted
Delhi Haat
Parked Cars Ainslie